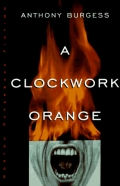 Note: This is book 6 of 52 in my 52 Books in 52 Weeks challenge for 2008.
Most of you familiar with American film and popular culture will know A Clockwork Orange from Stanley Kubrick's 1971 film of the same name. I've never seen that film, mainly because it always looked like the kind of violent squirmfest that makes me curl my knees up to my chest and shriek like a little girl. Reading the book by Anthony Burgess has only affirmed that opinion, but it has also convinced me that the book and, in all likelihood, the movie are pretty good works of art.
The basic gist is this: Alex and his thuggish friends are young ruffians in some kind of near-future (at the time, anyway) England. The corrupting influence of deviant music, aimlessness, socialism, and Ringo Starr's hairdo have finally driven the nation's youth into a lawless frenzy. Alex and his mates engage in all kinds of mayhem --and all glibness aside I'm talking about really horrible stuff like savage assault, robbery, breaking and entering, raping children, and murder. Burgess doesn't shy away from harsh descriptions of what he calls this "ultraviolence," and the perpetrators seem all the more wicked for how much they seem to enjoy it and how hapless their victims seem. By and by, though, Alex is caught and sent to jail, where he becomes a candidate for a new program that will "cure" him of his violent ways by forcing him to watch acts of ultraviolence and pairing this experience with a negative stimulus until he is overwhelmed by nausea at even the thought of misbehavior.
The central theme of the book seems to be that it's worse to be robbed of the choice to do evil than it is to do evil in the first place. Alex is considered subhuman once he's incapable of wrongdoing, and transforms quickly from a villain to a victim --or so the author would like us to think. Problem is, after seeing all the horrible things the book's antihero did in the first part of the book, I've got no pity for him. Even the traumatic and crippling experience he goes through at the hands of the state psychologists is better than he deserves. Burgess, who seems to have more of a penchant for anarchism than I, seems to be saying that a person who CAN'T choose evil is more of an abomination than one who CAN and DOES. But I can certainly tell you which I'd rather meet in a dark alley. Where social mores and laws fail, I say let's give this kind of souped up super psychology a chance if it means fewer hoodlums trying to crack my head open.
Of course, it would be unfair to Burges not to acknowledge his point about the slippery slope that this kind of thing could lead us down --if this kind of tool can be used to curb ultraviolence, it could also be used to curb ANY dissenting act or opinion. If we strapped people in a chair and reprogrammed their brains every time they led a protest or published a screed against the government, that would certainly mean the end of freedom and democracy and warm puppy noses. But that's a far cry from taking the knife out of some psychopath's hand and making sure he can't pick it up again to stab me in my precious internal organs.
Still, even though I disagree with the author's main points, it's a very well written book and the thought experiment was worth running. My only substantial complaint was that Burgess created a unique dialect for Alex and his band of young thugs, and since the book is narrated by Alex from the first person perspective, this made-up slang gets laid on really heavy. It was often to the point where I could barely tell what was being said since I had no idea that "chelloveck" or "grahzny" or "malenky" meant "person," "dirty," and "little bit" without a translator. Still, given that each generation and each group within a generation often has their own dialect, it did make the characters seem authentic (not to mention alien) and Burgess didn't have to rely on slang from his own period that would have quickly become outdated. It was, as Alex would say, real horrorshow.
Others doing the 52-in-52 this week: