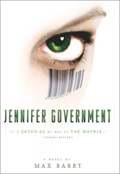 Note: This is Book 2 of 52 in my 52 Books in 52 Weeks challenge.
In some ways, Max Barry's Jennifer Government is like the inverse of Orwell's 1984. It's set in the near future where things have gone loopy, but instead of an out of control, totalitarian government oppressing everyone, it's uncontrollable megacorporations and hypercapitalism (or, one could argue, hyperlibertarianism) that's ruining everyone's day. Unfortunately, Jennifer Government is unlike 1984 in that it's not particularly well written.
The hook, like I said, is that Barry has created a near-future world where capitalism and its slothful cousin consumerism are the defining forces in the free world, to the point where the USA has taken over most of the planet, abolished taxes, moved nearly all traditionally governmental functions like education to the private sector, and yelled "Okay, let 'er rip!" It's the kind of place where McDonald's and Mattell run the grade schools, the police are mercenaries who dispense justice only after your credit card clears, and most of the world's ginormous corporations are banding together into ruthless syndicates centered around competing frequent buyer clubs. The consumer culture is so extreme that one's job is the most important thing in life, so that people do the very improbable thing of taking on their employer's name. So you got among the cast of characters John Nike (two of 'em, in fact), Billy NRA (uh, two of those, also), and one would assume Alice Freeonlinecreditreports.com (but just one of them).
By this you may surmise that the titular character, Jennifer Government, is one of the few people left in the employ of the dwindling public sector. She is, in fact, a law enforcement officer, and one of the last laws that remain in her world is a proscription against murder. So Jennifer gets involved when John Nike and his colleague the other John Nike launch a marketing campaign that involves assassinating 12 of the first youngsters to buy their new sneakers. You know, for the free hype and street cred.
The book jumps around between the points of view of several characters, including Jennifer Government, a suicidal stock broker, an anti-consumerism saboteur, a computer hacker with a screw loose, and the megalomaniacal marketing executive John Nike. But in general it's a tale of revenge and thrills. In fact, Jennifer Government is so obviously cast in the same mold as every rogue cop in every formulistic cop movie you've ever seen that I kept expecting her to fall to her knees, throw her head back, and howl "MEEENNNNDOOOOZZAAAAA!" And then she practically did just that.
The other main problem I had with this book was that the author's hand was WAY too visible in the plot, shoving things this way and that so that they went the way he wanted. There are a lot of threads and characters introduced, which in a way is great because it gives us more points of view into this potentially very interesting world that Barry has created. But what really kind of broke the magic for me was that unlikely coincidences started piling up and the characters started to do very improbable things so that those threads could be twisted together. There are cases of mistaken identity thanks to so many people having the same name but apparently no other way of establishing identity, chance meetings on airplanes and street corners, spontaneous and completely unexplainable romances, and overly convenient job assignments that bring characters together. It feels a lot less like the author is weaving various threads together and a lot more like he's yanking us around by the nose. In other words, it's not that the plot is so contrived, it's that the reader is so aware of it.
This is too bad, because the situation and world that Barry has created has a lot of potential. I wish he had expanded on the book a bit more and had the guts to slow things down a bit so that we got more vignettes and viewpoints about what it's like to live in a world where corporate executives can literally have you killed and get away with it, buying things is a way of life tantamount to religion, and class structures are defined less by race and wealth and more by which frequent buyer's club card you have in your wallet. The role of the media (tv, print, web) in this kind of world was also completely unexplored in the book. The author had some neat ideas going on here, but he seemed less intent on exploring them and more intent on railroading us through a predictable yet ham-fisted crime thriller. Still, it is fun and interesting enough in places that I can mildly recommend it as a kind of quick, entertaining read. It's kind of like a summer blockbuster action movie in book form.
Others participating in the 52-in-52 challenge this week: