Like I did for 2005, I thought I'd do a round up on the books I read in 2006. Here's the quick stats:
Books read: 49

Fiction books: 28

Fantasy: 11
Other fiction/Literature: 8
Horror: 5
Sci-Fi: 4

Non-fiction books: 21

Audiobooks: 33
Paper books: 16
That's down from 61 books in 2005, which I pin on a shorter commute for most of the year and fewer road trips from San Diego to Los Angeles. Both those were great for ripping through audiobooks. But in 2006 I still got through more books (49) than movies/DVDs (47), though just barely. Also, I have to stop reading so much fantasy stuff. Old habits die hard, but hardly anything I read in that genre last year was any good.
Now, in the end of the year spirit, here's a few best/worst awards:
Best Book I Read in 2006
This is actually a really tough call, so I'm going to cheat and call it a two-way tie between two books that wreck the traditional, linear narrative found in most other books. I can do that. The rules allow for it, I just checked.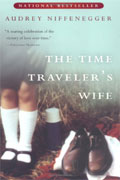 First we have The Time Traveller's Wife by Audry Niffenegger. I really didn't expect to even like this book that much when I started it, but it really hooked me. First, it's a good story, even for a romance. Niffenegger paints the characters as overly romantic (in both senses of the word) at times, but this story about a man who involuntarily slips back and forth in time to meet his wife at all stages of her life is fascinating and raises some interesting questions that you normally don't see in time travel stories. I loved the way the author flipped back and forth between multiple timelines in a way that laid down mysteries and upcoming storylines without being confusing or annoying. It was really well done and if I had to choose just one book as my favorite in 2006, this would probably be it.
But the fact is that I also enjoyed House of Leaves by Mark Z. Danielewski just about as much, even though it's a very different kind of story. Actually, the story about a mysterious house with a city-sized labarynth hidden within it isn't the thing to really appreciate about this novel. It's the way that the author forms one tale by stitching together six different layers, including a film documentary discussion, the journal of a madman, academic footnotes from another reader, and a series of letters between a mother and son. It's purposefully bewildering given that one narrative will literally interrupt another in the middle of a sentence and continue on for pages before the original one resumes, but it works really well. Also notable is the avant-garde typography not only discriminates between the various aforementioned narrative layers, but also does things like squish words together on the page when talking about enclosed spaces or leaves almost a whole page's worth of white space at the top when talking about large open areas. It's an amazing piece of work that pushes the written novel in directions that I've never seen before.
So there you go. Read either of those books and I doubt you'll be disappointed. Now, on the other hand….
Worst Book I read in 2006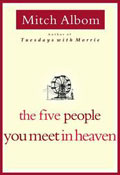 It was a close race, but The Five People You Meet in Heavan by Mitch Alboom won. Or lost. Either way, this was the worst thing I read all year. Alboom's book about a amusement park maintenance worker who dies trying to save a little girl from a deadly accident just drips with schmaltz. It's chock full of the kind of over the top sentimentality that you would expect from a made-for-TV movie (which, in fact, it became, though on ABC and not the Lifetime channel). The author's prose is also inelegant, ham-fisted, and about as subtle (and deep) in its sermonizing as a box full of Hallmark greeting cards. Thankfully the book was short and I was on a long drive or I probably wouldn't have even finished it. I recommend you never start.
Runners up for worst book I read in 2006:
Miscellaneous awards
Otherwise known as "Books I want to mention, but aren't best/worst material."
Getting things Done by David Allen is the book I'm most glad I read in 2006, since it tuned me in to a practical productivity system that I'm still using to keep on top of things at work. Sylvia Nasar's A Beautiful Mind, a biography about mathematician John Nash, was the most pleasant surprise of the year given how different (and more fascinating) a picture it painted of its subject relative to the movie of the same name. Finally Everything Bad is Good for You by Steven Johnson wins the award for "Most Thought Provoking" for how it turned prevailing assumptions about the effects of pop culture vessels like movies, reality television, and video games on their head, showing how they are actually more complex than many other media and how they actually make us smarter in ways I'd never thought of.
So, that's it for 2006. I'm already started on my 2007 book list, and I'll do the same thing next year. What about you? What was the best/worst book you read last year?