One of the cool things about moving to a new house is that you uncover neat stuff you had long ago crammed into some cardboard box and forgot that you even had. Sometimes that stuff turns out to be real treasures, like original artwork from one of the creators of the mega webcomic Penny Arcade. Here's a scan of the art that I recently rediscovered, had framed, and hung above my desk: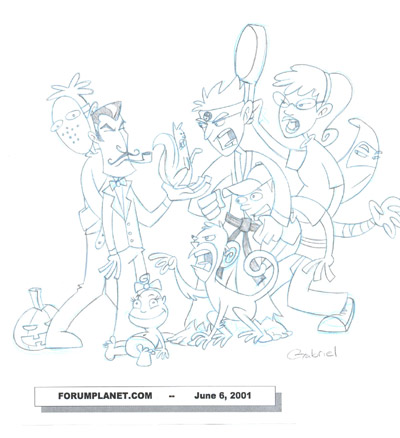 Great, right? No? Well, a little background to fill you in on the sentimental value:
Back in my days with GameSpy Industries, a lot of what I did was product development, management, and launch. These were web-based products, most often websites that rendered some kind of service like FilePlanet.com for which I'd create a business cases, functional specifications, and project plans. Then I'd be in charge of managing the team of coders, artists, and writers needed to get the thing launched. And by "managing" I mean wrining my hands, wandering from programmer to programmer, and asking "Is it finished yet? Is it finished? OH GOD, THEY'RE GOING TO TAKE MY THUMBS IF IT'S NOT FINISHED!"
One of these projects was ForumPlanet.com, a network-wide system of messageboards that our friends and enemies could use to post messages and communicate. Messageboards were all the rage back then. One of the things that we usually did to add character to our sites was hire a guy named Mike "Gabe" Krahulik to create illustrations. Gabe was the artist on a burgeoning webcomic called Penny Arcade, a webcomic that, with the help of writer Jerry "Tycho" Holkins, went on to become one of the most popular and profitable of its ilk, a kind of Internet sensation that just about any gamer at least knows about if not reads religiously. It's kind of like Funky Winkerbean except it's totally awesome and people love it. Gabe had done many illustrations for my friend Fargo's exelentacular (but long discontinued) Daily Victim feature, and we consigned him to create some illustrations for the launch of ForumPlanet, too.
The picture at the top of this post is a draft of some of the main imagery that would make it into our advertisements and general use for the site. Fargo delighted me by getting the original artwork from Gabe, framing it, and giving it to me to celebrate the launch. I remember having it up at my office at GameSpy, but when I moved to San Diego I must have packed it away and forgotten about it. Shame.
So maybe that's not really a "link," tenuous or not, to Penny Arcade. It's really more of a "hey, I've got some original, signed artwork by one of the guys who draws it." But wait, there's more. One of the other things we commissioned Gabe for is to create caricatures of all the major GameSpy editors for use in our newsletters and articles. As the senior editor of FilePlanet, I wrote a weekly e-mail newsletter (here's and archive of one to give you the idea) and thus needed such an illustration. Check it out: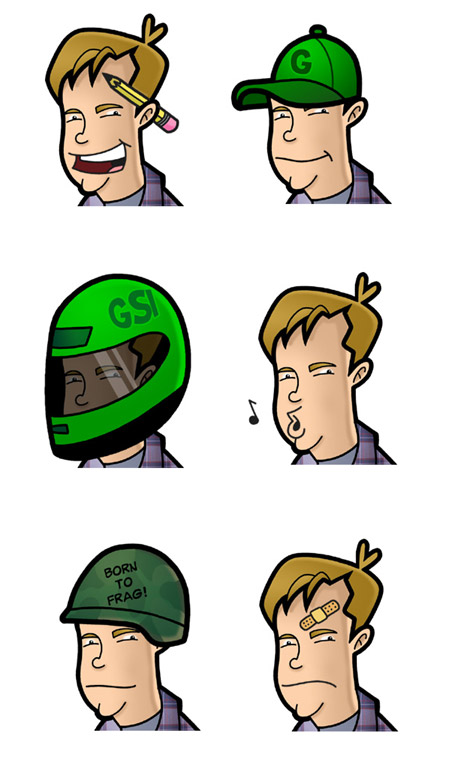 I mean, I have a lot of reasons to say I'm glad I did the whole GameSpy thing, but being drawn by one of my favorite cartoonists is near the top.
So tune in next week when I glibly drop more names from the world of webcomic superstars and tell you about how Scott Kurtz of another massively popular webcomic PvP Online went and included me in one of his comics and how I took him out for chineese food. ...Well, actually, that's pretty much the whole story. That and how he signed for me a copy of his comic book with a picture of Skull the Troll saying "To the Loooove Doctor, Jamie."
Good times.