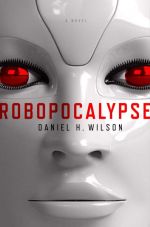 "Robots go bananas and kill everyone" isn't exactly a novel idea in science fiction, but it stands as a sturdy foundation for Daniel Wilson's book Robopocalypse. You know the drill: Man creates artificial intelligence. Artificial intelligence takes one look at man and says "Yeeeeah, I'm gonna just go ahead and destroy all humans." Man proves resourceful, spirited, and difficult to eradicate. Time travel may or may not be involved.
What's interesting about Robopocalypse is that instead of focusing big battles a la Terminator, it lingers on the beginning of the "New War" and shows how the AI serendipitously gains control of all the mechanical and electronic do-dads that near-future humanity has grown reliant on and turns them against their creators. So not only are there service robots choking people to death, there's killer vacuum cleaners, smart cars that deliberately crash themselves (and their human passengers) into one another at high speeds, buildings that turn off the lights and lure people into elevator shafts, and the like. Much like World War Z, each chapter in Robopocalypse is a vignette following a wide cast of characters who aren't even connected until the book's climax. These early to middle parts of the book were the most enjoyable to me because they showed a wide, creative array of ways that things could go south if our machines turned against us.
Unfortunately this also works at cross purposes with the rest of what you want out of a novel. Robopocalypse is epic in nature –it chronicles the near annihilation of humanity– but it feels very cursory. The rapid-fire chapters cover a lot of ground, but Wilson doesn't take any time to build characters or develop them beyond crude, stunted arcs. I don't really feel like I know or care about any of these people –or robots, for that matter. The book is full of great gaps in its plot so that it lurches forward months at a time, robbing the reader of getting to know the characters or get a feel for what they're going through. It's all punchline and no setup.
The nature of the chapter vignettes also fails in that each one is supposed to be told from the perspective of a given character, but the author often tries to convince us that the action is being reconstructed by an overall narrator who sees gleans events from a variety of sources such as security cameras, eyewitness testimony, and other recordings. This conceit simply doesn't work in that you're always conscious of an omniscient author cramming things together in a way to tell the story he wants to tell. There's no "found footage" feel to the narrative like I think he was going for. Instead you just have to decide to go with it, but roll your eyes a little while you do. Worse, the characters often don't sound like what you'd think they're supposed to, like the frozen yogurt employee who throws in just a few too many similes and colorful turns of phrase when supposedly dictating his eyewitness testimony to a cop.
So, it's unfortunate that Robopocalyse wasn't better written, because it has some neat ideas that could have stood some fleshing out. It feels like a book that should be three or four times longer than it is, given its desired scale and large cast of characters.