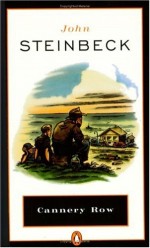 Continuing to try and work my way through John Steinbeck's novels. This short work bears a lot of resemblance to Tortilla Flat in that it's largely devoid of plot and focuses on a group of loafers and bums, and it's kind of funny in places. Cannery Row has a bit wider scope, focusing as it does on the community near a fishing cannery in Monteray, California. I'm not sure of the timeframe, but I'd guess that like other Steinback books it's set in the early 20th century. The bums in question here are the residents of "The Palace Flophouse and Grill," a former fish meal storage hut. Like the paisanos in Tortilla Flat, the Palace's inhabitants are possessed of skills and philosophy but are lacking in ambition. Instead they just choose to take things as they come and enjoy life. Their outlook largely mirrors the first half of the novel.
This changes a bit when they decide that they should throw a party for one of Cannery Row's other residents, Doc, a kind of dour but helpful natural philosopher who collects and works with wildlife specimens. The book loosely follows the Flophouse crew and Doc as they screw up one party and try to make it right with another. Chapters are interspersed with little scenes and tales from around the community, giving us sometimes funny and sometimes grim views of everyone else in town. And for such a short book it has a wide cast. In addition to Doc and the Flophouse inhabitants there's Lee Chong, the owner of the local grocery store, Dora Flood, the madam of the local restaurant/brothel, and assorted other neighbors. Through them the book hits on its themes of happiness, community, charity, and ambition.
And, like Tortilla Flat, Steinbeck's appreciation for simple pleasures and the authentic, straight-forward people who love them shines straight through. You get the feeling that Mac and the others in he Palace Flophouse and Grill may not amount to much in life, but they're doing a better job of living it than any politician, businessman, or person of would-be significance ever could. To me, though, the bums in Cannery Row were much more likeable than those in Tortilla Flat –they're lazy and they may steal on occasion, but they're more honest about it and don't go through the (admittedly amusing) mental and philosophical acrobatics needed to justify their actions. They just do what they do, and they care about the other people in their community enough to put up some effort. They seem like nice fellas.