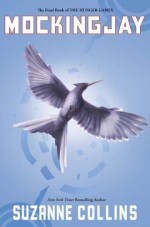 Mockingjay is the third book in the Hunger Games trilogy by Suzanne Collins, in which our heroine Katniss Everdene finally comes into her own. Here's the super condensed version of the setup: dystopia, dictatorship, reality TV, gladiatorial games, love triangle, rebellion. That will get you most of the way there, but you can read my review of The Hunger Games or Catching Fire for more detail.
After the filler that was book 2, I was glad to see Collins finally start running full speed with a theme she's been hinting at since the first book: Katniss as an unwilling and even unknowing role model and inspiration to the growing rebellion in Panum. She, along with several of the other characters from previous books, find themselves in the middle of a full-out war against Capitol, fighting for their freedom by cutting off the city's access to the goods and services it had traditionally plundered from its various surrounding districts. Only Katniss finds that life as a the face of a rebellion isn't much better than the alternative, since she's still being pushed around, still having to throw herself into danger to protect those she loves, and still finding herself literally on camera and fumbling to play a part for the sake of appealing to home viewers. It is, in short, very much like being in the Hunger Games. I thought this was pretty clever of Collins, and I really like how she plays with this intersection of celebrity, politics, and warfare, which you can see pretty clearly in the real world if you squint your eyes and cock your head just a little.
The author also continues to touch on other themes like responsibility, government control, sacrifice, the role of media in war and politics, class warfare, poverty, and the rest. And, of course, while things resemble the Hunger Games thematically, we are finally not watching Katniss and Peeta stomp around an actual arena. Instead we see Katniss and her crew engaging in real warfare, making hard decisions (or failing to), and living with the consequences (or trying to). The book does, in fact, get pretty dark at times. Like really dark. Like, dead babies dark. This is kind of surprising for a book found in the "Young Adult" section of the bookstore, but at the same time it gives it a sense of gravity that entirely fits with the themes being laid out.
I cannot, unfortunately, say the same thing about the love triangle between Katniss, Peeta, and Gail, but at least in Mockingjay I can sigh and remind myself of three things: 1) this is indeed a book written for young adults, 2) Katniss is supposed to be like 16 or something and most every one of us was also emotionally retarded at that age, and 3) it's not nearly as bad as it was in the first two books. And, in the end, Collins decided to give us a payoff (or at least a resolution) that actually felt natural and deserved.
So, while Mockingjay wasn't the novel page-turner that I found the first book to be, it was definitely better than the second and made for a nice cap to the series.