As I mentioned earlier, my pet blogging project for 2011 is going to be a weekly recap of 52 kid friendly science experiments in 52 weeks. I'm doing at least one little project each weekend with Samantha where I'll teach her some miscellaneous science facts by doing the experiments in addition to familiarizing her with the scientific method in general by having her use a notebook to make predictions, record observations, and describe what she's doing. (Practice with writing, spelling, and grammar is a nice bonus, too.)
This week we learned about mold and what makes it grow. To start, I collected some aluminum tins to hold the following:
A piece of bread
A toasted piece of bread
About 8 ounces of yogurt
A peeled orange
I then explained to Sam that mold was a fungus, which is a kind of plant. There are tiny mold spores in the air that will grow on food if you set it out. She surprised me a bit by sitting up and saying "Oh, like decay!" Yep, mold could definitely be part of the decay process. I then asked her to write down in her journal what she thought would happen. She wrote:
I thigk the tost will grow the most mould. I think the yogrt will grow the lest mould.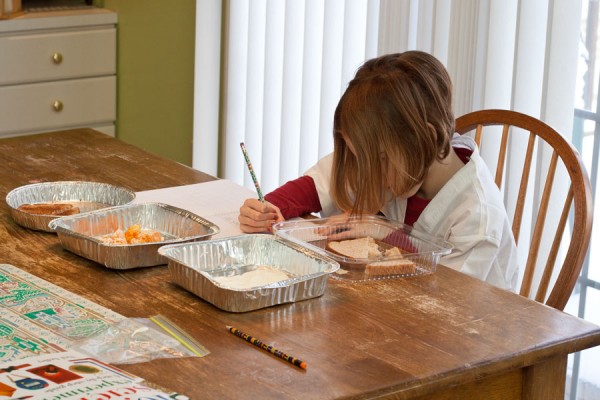 At this point I asked why she thought that, and she said, "Because I think mold will grow best in dry stuff." Bam. That's a model, folks. Not a complicated one or a very accurate one as it turns out, but that's beside the point. She articulated a model of mold growth!
Final step: we labeled our specimens:
After that, I placed them on a shelf in the basement and we let them alone for a week. At this point I should point out that I kind of screwed up by not covering the tins with plastic wrap per the book's directions, which probably affected our results a bit by drying the bread out. Fortunately Geralyn did this for me before all was lost.
A week later we retrieved the specimens and laid them out. The bread that was robbed of its moisture by the toaster was mold-free as far as we could tell. Unfortunately so was the untoasted bread, most likely because I had let it dry out. Normally I think it would have grown something:
The yogurt, on the other hand, was just starting up a good green head, but nothing spectacular: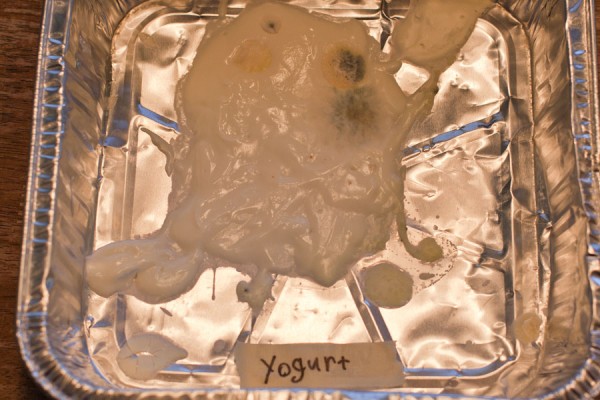 The orange, fortunately, came through and provided the moldy jackpot: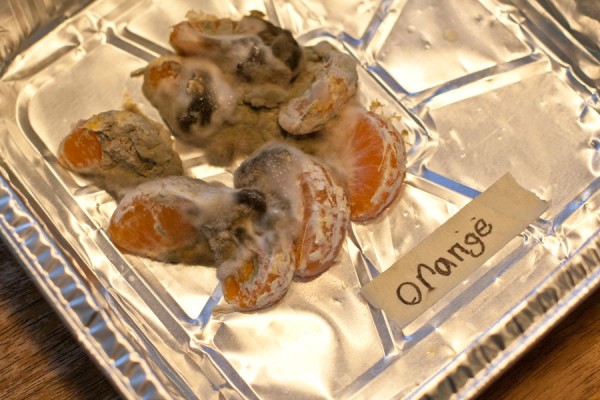 Eugh. We took a good look and I asked Sam to write down what she was observing.
The yogurt grew a letl mold. The ornge grew the most mold. The tost and dreb ded not grow aney. The mold is green and wite on the ornge. It looks fussey. When you poke it dust comes off.
(As you can see, she still sometimes flip-flops her "b" and "d" letters. Working on that.)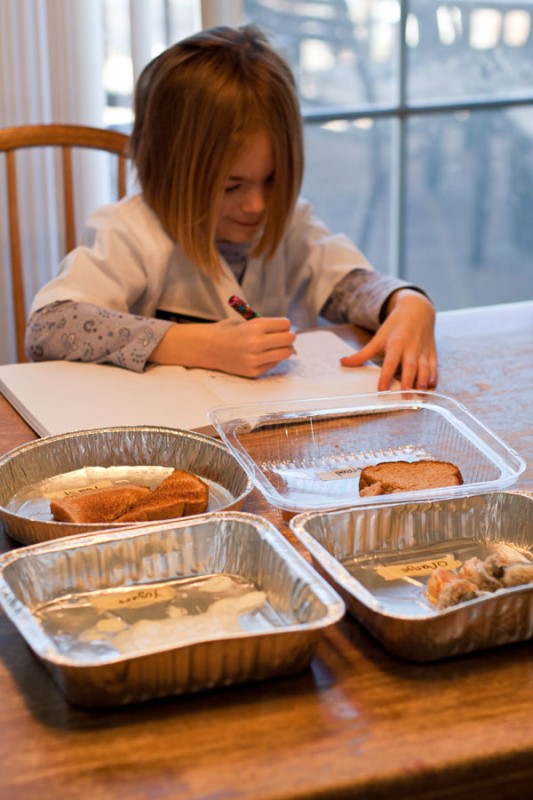 At this point I asked Sam what other sense she could use –besides touch!– to make observations about the mold. She made the face below then wrote "it ded not smel good." in her journal. This was true.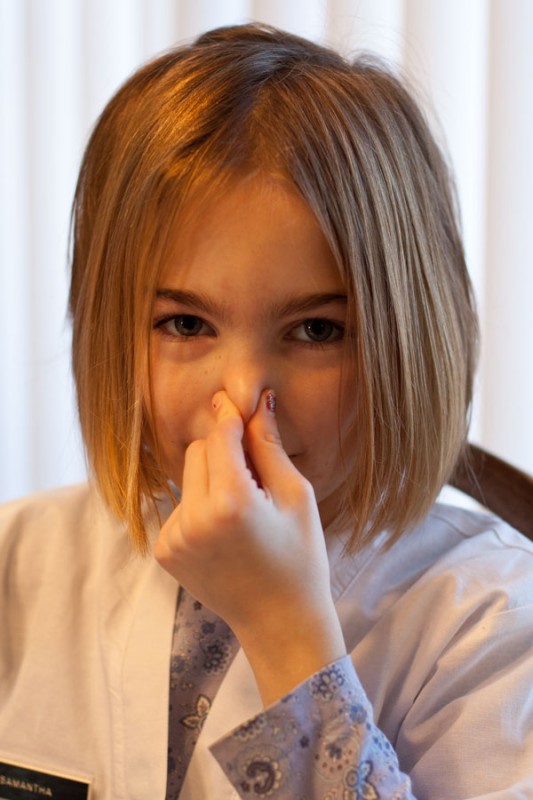 At this point I asked her to read back over the predictions she had written several days earlier and tell me if they had been correct, which resulted in her writing this in her journal:
My prediction was wrong. Mold gros in wet plases not dry.
She seemed disappointed in herself, but this was a great chance to point out that one of the reasons science works so well is that even wrong guesses can be very useful. Science is iterative, meaning that every result is the entry point for a new repetition of the process, leading to refinements and better predictions. Wrong answers are helpful if they help us point ourselves in the right direction, which her "Mold gros in wet plases not dry" comment illustrates.
It can almost go without saying, though, this is all beside the point if you're not doing science with a fancy sparkly pen: