Feb 11 weight: 176
Last 5 days avg weight: 178.2
Weight a week ago: 176.5
Workouts in last 7 days: 6
Pretty unimpressive week. I either lost half a pound or no weight at all, depending on if you look at this morning's weight or the 5-day running average. I had a bad weekend involving Chex cereal mix and the dreaded "Donut Sunday." The latter is our church's monthly, free all-you-can-eat donut bonanza. Not to go all "Cathy" on you, but donuts are my favorite food. I won't say anything as untruthful as "I can't help myself" but the fact is that if you set a platter of them down in front of me, I don't want to help myself. I'll eat them until I literally feel ill and at the time I'll think it the best of all possible situations. Alas.
Chart!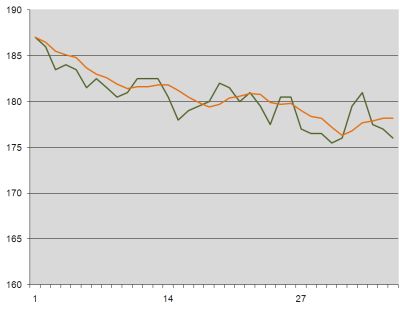 You can see how much I'm bouncing around, but at least there's a downward trend there. If you squint and kind of tilt your head. I'll make next week a better one. Thank God that Donut Sunday is only once a month.
And picture!
Half a pound doesn't show up much in pictures. So for comparison's sake, here is an average six year old girl who insisted on trying out the camera's remote control: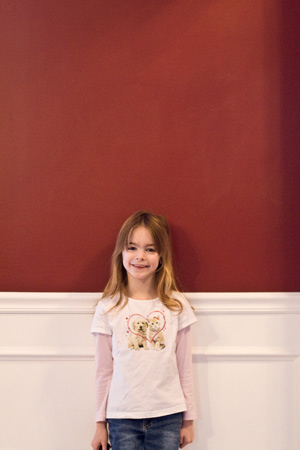 I think she weighs like four pounds. Five tops. Wait, that just makes me look heavier, doesn't it?