January 14 weight: 181.5
Last 5 days average weight: 182.6
January 7 weight: 187
Workouts in last 7 days: 5
I lost 5.5 pounds over the last 7 days. That's a lot for one week, but not completely unexpected. I've noticed that the weight tends to come off fast right when I tighten up my diet, possibly because I'm cutting out a lot of salt (which makes you retain water) and eating more fiber (which makes you …you know…). I expect things to slow way down going forward.
Look, I made a graph!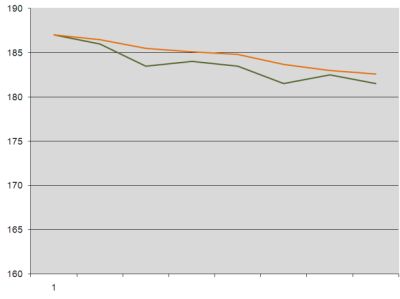 Notice the two lines. Notice them! The green one is my daily weight. The orange one is my running, 5-day average weight. Since weight naturally fluctuates on a daily basis, it's the "smoothed out" orange line that I pay most attention to. Because it lets random error variance in weight gain/loss cancel itself out over the course of 5 days I think it's a better measure of actual progress. You know this makes sense because I used a fancy phrase like "random error variance" to explain it.
Now, here's this week's awkward self-portrait taken while I was still groggy this morning:
One little diet hack that I thought I'd mention this week because it seemed to work: almonds. I got a one pound bag of raw almonds and toasted them with some salt, Worcestershire sauce, soy sauce, and a dash of chill powder. Geralyn then put them into little zip-top bags in one ounce servings. I put all those bags in a bigger bag and put it in the trunk of my car. Now when I leave work every day I grab one of the baggies and eat it in the car on the way to the gym. At 170 calories for 1 ounce (about 22 almonds) they're calorie dense, but I've noticed that it gives me energy for the workout and keeps me from snacking before dinner. Plus they're awesome.