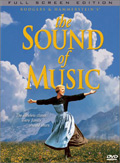 Note: This is #44 in my 52 Classic Movies in 52 Weeks challenge for 2009.
Well, THAT was certainly wholesome.
Where to start? Well, Julie Andrews plays Maria, a young woman with a terrible haircut and aspirations to become a nun. But Maria is really bad at being a nun, what with all the skipping vespers in favor of singing and prancing the hills of Austria. As a way of letting her sew her wild oats (or getting rid of her, if you take a more cynical view), the Mother Superior sends Maria into town to serve as a nanny for the seven children of an Austrian naval Captain who has lost his wife and replaced her with a huge stick up his bum.
Initially the children are bratty and try to put the new nanny in her place, but after singing some songs and making them some truely horrendous clothes out of curtains, Maria gets on their good side and begins taking them out to cavort and play. This puts her at odds with their father, as the loss of his wife has left him wiht a dearth of humor and a surfeit of discipline. He also, however, has retained his love for Austria and a disdain for the Nazis, who were trying to shoulder their way into the country on the eve of World War II.
As you could guess from the title if you didn't already know, The Sound of Music is a musical, with lots of tunes and lyrics by the famous composers Rodgers and Hammerstein. Again I was struck by how many of the songs I recognized and kept saying "That's from this?" every few minutes. There are a few pretty iconic numbers in there, like "Do-Re-Mi," "Edelweis," and "Climb Every Mountain" and it was entertaining to see where they had originally come from before seeping into popular culture at large.
It's also noteworthy that I watched this one with my wife and two young daughters (age 5 and 2), and the kids were mostly transfixed by the movie. They loved the songs and the scenes with the von Trapp children, especially if they were singing. The music is good and recognizable, and the movie is not bad if you don't mind something so saccharine. With Nazis.