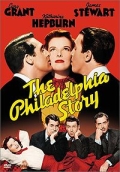 Note: This is #15 in my 52 Classic Movies in 52 Weeks challenge for 2009.
More romantic comedy, more Katharine Hepburn, more James Stewart, and more Cary Grant. The Philadelphia Story has one of the more complicated plots of its ilk that I've seen, telling the story of self-important socialite Tracy Lord (Hepburn), who was divorced from her jerkface husband C.K. Dexter Haven (Grant) some time ago and is getting ready to marry a self-made man (John Howard). Lord guards her privacy closely, so a local gossip rag ropes writer/newspaperman Macaulay Connor (Stewart) and another photographer into infiltrating Lord's wedding day with her ex-husband's help. Along the way people fall in love, out of love, and so forth. Yeah.
So the plot is a little silly and not particularly sparkling, but there are a few funny moments and some really great performances. I think, in fact, I'm beginning to understand the appeal of Katharine Hepburn. I've never found her sexy or attractive AT ALL, so not having seen her in movies I was a bit at a loss for understanding the reason for her appeal. Turns out, it's the obvious one: she's fun to watch on screen. She's got a certain type of charisma and presence up there, and it's easy to get carried away with whatever act she's putting on.
Cary Grant also puts on a good show as reformed jerk C.K. Dexter Haven, and his character probably has the most depth out of any of the cast --though that's not necessarily saying much. I was kind of disappointed with James Stuart's performance, though. Maybe it's because I just saw him in Mr. Smith Goes to Washington, but he seems to have this unique cadence to his deliveries and a limited set of mannerisms that make me think he's always going to make me think "That's James Stweart. He's pretending to be someone else, but he's not fooling me." It's kind of like Morgan Freeman. When I see him in the credits of any movie my brain always sees "and Morgan Freeman as ...Morgan Freeman ...playing some guy."
So, not a bad movie, but I'd definitely place it in the middle of the pack of what I've seen so far.
Also this week, Jeremy reviewed Milk
.