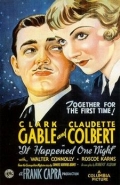 Note: This is #8 in my 52 Classic Movies in 52 Weeks challenge for 2009.
After watching It Happened One Night I have come to two realizations. First, fedora hats TOTALLY need to come back in style. Second, I want Clark Gable to have my children. I think I only really have a shot at one of these.
The movie felt very much to me like a precursor to modern romantic comedy, only with much less sex. Sheltered socialite Ellie Andrews is feuding with her father over her plans to marry some jerk when she flees the scene entirely by jumping off the family yacht. Since her father is a man of some means, he institutes a massive manhunt (well, womanhunt) to find her. While on the lamb, Andrews meets rakish newspaper reporter Peter Warne (played by Clark Gable). He recognizes her but agrees to help her flee to her fiance in New York in exchange for a sensational story he can sell to the papers. Hijinks and adventures ensue, during which Andrews and Warne gradually fall in love and she has to choose between her millionaire fiance and this penniless but principled newspaper man.
I found the movie pretty charming and very watchable. Gable and Claudette Colbert (who plays the leading lady) give great performances, with sharp dialog and banter that feels mostly natural. Just watching them discuss how to dunk a donut in coffee feels like you're watching real people getting to know each other. The two characters have the standard "opposites attract" chemistry going on, and it's fun to see it at work. Gable in particular is entertaining to watch, and there's something about the way that men and women talked and dressed in that time period that makes me nostalgic for an era I never even experienced.
Like I said: fedoras. And suspenders.
Also this week: Jeremy reviews Nights in Rodanthe.