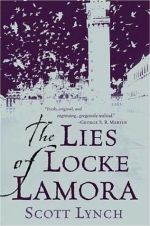 As far as character archetypes go, we've seen the likes of Locke Lamora before: clever, dashing, silver-tongued, and full of tricks, he seems to have been put together with the same blocks as Robin Hood, Brer Rabbit, and most Errol Flynn movie roles. To have him as a character in a psudo-fantasy novel, then, is pretty interesting. Lamora and his partners in crime fancy themselves as diciples of the god of thieves, and they live simply to be "richer and cleverer than anyone else" with stealing from the rich being more the point than actually being rich.
The Gentleman Bastards, as his gang calls itself have a penchant for long cons and elaborate schemes that require more acting and subterfuge than swordplay. Their playground is the city of Comorr, which author Scott Lynch presents as a kind of Rennaisance Vennice built on the bones of a mysterious, powerful, and completely abandoned civilization. There's magic, but outside of a kind of supercharged chemisty called "alchemy" it's very powerful but extremely rare. This all gives Camorr and the larger world a very refreshing feeling to it, as it's unlike any other high fantasy I've ever read.
One of the things I like about Locke as a character is that Lynch manages to avoid the tempting trap of making him too good at what he does. Cleverness can be a superpower that trumps any danger if the author sets his mind to it, and then it becomes as boring and trite when the hero thinks or talks himself out of any peril as it would be if he just punched everyone super hard. While Locke and his companions clearly think fast on their feet and show a preference for extreme preparation in whatever they attempt, it's often not enough. Things go badly, they make mistakes, complications arise, and unfortunately runs of bad luck do happen. What's entertaining, then, is watching the characters react to these challenges and seeing them suffer setbacks and maybe even complete defeat.
The first book, The Lies of Locke Lamora is definitely the better of the two I've read so far. The plot is sufficiently complex given the nature of the characters, but it hangs together well and lets us enjoy seeing Locke and his partners wedged into a tight spot before finally wiggling their way out. It also presents a nice mystery or two and lets us learn about the workings of Comorr's gangs and culture in the process. It's entertaining all the way through.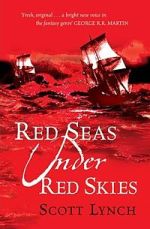 In contrast, the second book, Red Seas Under Red Skies, almost stalls out in the beginning. It opens with Locke and his companion Jean attempting a casino heist that seems like something more out of an Oceans 11 movie than a fantasy novel. Sure, this isn't a typical fantasy setting, but the "Sinspire" casino still seemed a little too incongruous for my tastes. From there the plot gets messy quickly and it seems like Lynch is picking up and abandoning threads all over the place just to have fun with them but not putting enough thought into a coherent narrative. This changes towards the end of the book when all the major parts of the plot mostly come together, but it's still nowhere as nearly done as in the first book.
So, if you fancy a fantasy page turner with a unique setting and a likeable but flawed trickster hero, give the first book a try. There are more in the series coming, with the third book supposedly due out later this year.