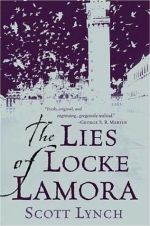 As far as character archetypes go, we've seen the likes of Locke Lamora before: clever, dashing, silver-tongued, and full of tricks, he seems to have been put together with the same blocks as Robin Hood, Brer Rabbit, and most Errol Flynn movie roles. To have him as a character in a psudo-fantasy novel, then, is pretty interesting. Lamora and his partners in crime fancy themselves as diciples of the god of thieves, and they live simply to be "richer and cleverer than anyone else" with stealing from the rich being more the point than actually being rich.
The Gentleman Bastards, as his gang calls itself have a penchant for long cons and elaborate schemes that require more acting and subterfuge than swordplay. Their playground is the city of Comorr, which author Scott Lynch presents as a kind of Rennaisance Vennice built on the bones of a mysterious, powerful, and completely abandoned civilization. There's magic, but outside of a kind of supercharged chemisty called "alchemy" it's very powerful but extremely rare. This all gives Camorr and the larger world a very refreshing feeling to it, as it's unlike any other high fantasy I've ever read.
One of the things I like about Locke as a character is that Lynch manages to avoid the tempting trap of making him too good at what he does. Cleverness can be a superpower that trumps any danger if the author sets his mind to it, and then it becomes as boring and trite when the hero thinks or talks himself out of any peril as it would be if he just punched everyone super hard. While Locke and his companions clearly think fast on their feet and show a preference for extreme preparation in whatever they attempt, it's often not enough. Things go badly, they make mistakes, complications arise, and unfortunately runs of bad luck do happen. What's entertaining, then, is watching the characters react to these challenges and seeing them suffer setbacks and maybe even complete defeat.
The first book, The Lies of Locke Lamora is definitely the better of the two I've read so far. The plot is sufficiently complex given the nature of the characters, but it hangs together well and lets us enjoy seeing Locke and his partners wedged into a tight spot before finally wiggling their way out. It also presents a nice mystery or two and lets us learn about the workings of Comorr's gangs and culture in the process. It's entertaining all the way through.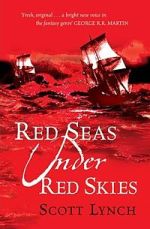 In contrast, the second book, Red Seas Under Red Skies, almost stalls out in the beginning. It opens with Locke and his companion Jean attempting a casino heist that seems like something more out of an Oceans 11 movie than a fantasy novel. Sure, this isn't a typical fantasy setting, but the "Sinspire" casino still seemed a little too incongruous for my tastes. From there the plot gets messy quickly and it seems like Lynch is picking up and abandoning threads all over the place just to have fun with them but not putting enough thought into a coherent narrative. This changes towards the end of the book when all the major parts of the plot mostly come together, but it's still nowhere as nearly done as in the first book.
So, if you fancy a fantasy page turner with a unique setting and a likeable but flawed trickster hero, give the first book a try. There are more in the series coming, with the third book supposedly due out later this year.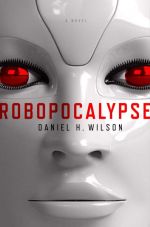 "Robots go bananas and kill everyone" isn't exactly a novel idea in science fiction, but it stands as a sturdy foundation for Daniel Wilson's book Robopocalypse. You know the drill: Man creates artificial intelligence. Artificial intelligence takes one look at man and says "Yeeeeah, I'm gonna just go ahead and destroy all humans." Man proves resourceful, spirited, and difficult to eradicate. Time travel may or may not be involved.
What's interesting about Robopocalypse is that instead of focusing big battles a la Terminator, it lingers on the beginning of the "New War" and shows how the AI serendipitously gains control of all the mechanical and electronic do-dads that near-future humanity has grown reliant on and turns them against their creators. So not only are there service robots choking people to death, there's killer vacuum cleaners, smart cars that deliberately crash themselves (and their human passengers) into one another at high speeds, buildings that turn off the lights and lure people into elevator shafts, and the like. Much like World War Z, each chapter in Robopocalypse is a vignette following a wide cast of characters who aren't even connected until the book's climax. These early to middle parts of the book were the most enjoyable to me because they showed a wide, creative array of ways that things could go south if our machines turned against us.
Unfortunately this also works at cross purposes with the rest of what you want out of a novel. Robopocalypse is epic in nature --it chronicles the near annihilation of humanity-- but it feels very cursory. The rapid-fire chapters cover a lot of ground, but Wilson doesn't take any time to build characters or develop them beyond crude, stunted arcs. I don't really feel like I know or care about any of these people --or robots, for that matter. The book is full of great gaps in its plot so that it lurches forward months at a time, robbing the reader of getting to know the characters or get a feel for what they're going through. It's all punchline and no setup.
The nature of the chapter vignettes also fails in that each one is supposed to be told from the perspective of a given character, but the author often tries to convince us that the action is being reconstructed by an overall narrator who sees gleans events from a variety of sources such as security cameras, eyewitness testimony, and other recordings. This conceit simply doesn't work in that you're always conscious of an omniscient author cramming things together in a way to tell the story he wants to tell. There's no "found footage" feel to the narrative like I think he was going for. Instead you just have to decide to go with it, but roll your eyes a little while you do. Worse, the characters often don't sound like what you'd think they're supposed to, like the frozen yogurt employee who throws in just a few too many similes and colorful turns of phrase when supposedly dictating his eyewitness testimony to a cop.
So, it's unfortunate that Robopocalyse wasn't better written, because it has some neat ideas that could have stood some fleshing out. It feels like a book that should be three or four times longer than it is, given its desired scale and large cast of characters.
Photo dump! Had a great 4th of July weekend at The Farm, per our annual family tradition. We actually had a HUGE crowd out this year, with over 40 members of Geralyn's extended family all sitting down to the same dinner at one point. With the heat the lake saw a lot of use, including by our new puppy, young Ezio. Since he's not very well trained yet, we had fears of unclipping his leash and then watching as he sprinted off into the woods to be eaten by a bear, but he actually did really well while off the hook. He chased some butterflies on the beach, explored his love of digging in the sand, and even went for a handful of short swims.
Ezio was also the center of much attention and fawning, though I lost count of how many puzzled looks I received when trying to make people understand his name. "It's Italian" isn't quite the conversation ender I had hoped it would be, as people kept asking "So what does that translate to?"
At any rate, lots of fun and the girls were really well behaved despite all the commotion. Would do again.