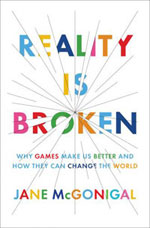 Unlike people who apparently pay attention to what's going on in the gaming industry, I only recently became aware of Jane McGonigal, a Ph.D. in Performance Studies best known for designing alternate reality games and thinking really big thoughts. After reading her book, Reality Is Broken: Why Games Make Us Better and How they Can Change the World, McGonigal strikes me as part cheerleader, part social scientist, part entrepreneur, and part that crazy lady in the downtown L.A. parking lot that would always throw pigeons at me. It's an interesting combination.
I wanted to review Reality is Broken here because McGonigal does what I do: she examines the intersection of psychology and video games. Only where I tend to look at the larger world and apply theories about human behavior to explain game design and player behaviors, she does the inverse by starting at maxims of game design and player desires to understand how we do things in the real world.
Or rather, how we should do things in the real world. The central thesis of the book is that reality –that is, everything that's NOT a game– is inferior to games and we can learn a lot about how to make reality better by looking at what makes games so wonderful. This idea is codified in fourteen different "fixes" for real life, such as getting in a epic mindset (Fix #6), opening yourself up to having fun with strangers (Fix #9), and doing work that's intrinsically satisfying (Fix #3). The book is at its best when it draws these straight lines from the things that make video games great to ways to improve our work, philanthropy, and relationships outside of games. Specific, actionable goals subject to clear feedback, for example, are things that every game designer aims for and every player seeks out, and to the extent that we can adopt those same standards in real life and frame our everyday activities in game-like terms, we can be happier and more productive. The game-cum-todo-list Chore Wars is a perfect example, and I find that kind of stuff fascinating.
That's a pretty cool topic, and I have to admit that McGonigal has a knack for drawing these parallels in ways that are really clear and make you think "Yeah, I can see that!" This made the early chapters of the book (grouped under the heading "Why Games Make Us Happy") my favorites, since they focused on building her argument and really nailing in a clear way many of the things about video games that can make us happy and mentally healthy. The second group of chapters ("Reinventing Reality") start to deal with applying these rules to alternate reality games. My favorite one of these was "Cruel to Be Kind," which was a re-purposing of the old "Assassins" game that many of us played on college campuses. The difference is that instead of sneaking up to people and squirting them with water pistols, C2BK players would perform random acts of kindness –such as a warm greeting, a helping hand, or a kind compliment– in order to take each other out of the game. Only you never knew who your fellow players were, so many perplexed but pleased bystanders are often caught in crossfires of friendly words and offers of aid. It's the kind of thing that perfectly captures the kind of "let's make the WHOLE WORLD totally awesome HELL YEAH!" attitude that McGongal is so well known for.
Things start to fall apart in the third section of the book, however, which includes description after description of McGonigal's various other alternate reality and crowdsourcing projects. It's here that I kind of started to lose the thread, because describing things like Wikipedia other collective intelligence projects as "games" starts to strain credibility and the premises put forth earlier in the book. How exactly did we get from "Players seek out experiences that create psychological flow" to "Let's get gamers to blog about solutions to the energy crisis?" Is that really a game the same way that Halo or The Sims are? It sure doesn't feel like it, and that's kind of where I think Reality is Broken is itself a little broken.
Still, it's a very interesting book, and it gave me some great ideas. I should also mention that McGonigal's tone takes some getting used to and more than a couple of pinches of salt. She obviously believes these big thoughts and thinks that games can serve as models for making the world better, to the point where she (somewhat infamously) thinks there should one day be a Nobel prize for game design. But like I said her claims sometimes strains credibility and you often wonder what the point B between points A and C looks like, because you apparently missed it. But at the very least, the chapters on what makes games work are worth reading, and the rest of the book will at worst make you feel pretty good about being a gamer. Still, her joy and optimism are infectious, and having champions like McGonigal for our hobby is hardly a bad thing.
By the way, if you want to get a taste for McGonigal's grandiosity and ideas, you can do so by watching her TED Talk here.