As I did last year, I thought I'd go over the books I've read over the last 12 months. Of course, this time around I also did the whole "52 books in 52 weeks" challenge where I aimed to read an average of a book a week during the year. I passed that goal by quite a bit, it turns out, so I think I can say I completed that challenge. Also congrats to Jeremy and Heliologue for hitting (or passing) their goals as well, as well as Nick who got a late start but participated every week once he got going.
All in all, I ended up reading 65 books in 2008, which you can see here. Here's some fun stats:
Total books: 65
Total pages: 18,759*
Average book length: 354 pages**
Paper books: 22
Audio books: 43
Fiction books: 39

Fantasy: 14
Horror: 4
Science fiction: 7
Other fiction: 14

Nonfiction books:26

Business: 4
Humor: 4
Biography: 5
History: 1
Science: 7
Other nonfiction: 5
*If you convert the length of the audiobooks to page counts by looking at their paper counterparts
**Ibid
If I were to pick a theme for 2008, I'd say that it's definitely the year that I discovered some great new authors. I fell in love with the Diskworld books Terry Pratchett, as well as the self depricating but brutally honest humor of David Sedaris. I also liked the mixture of humor and science writing that Mary Roach brings to her books, and I could even mention Naomi Novik since I liked her 5 Temeraire books well enough to read them all.
And of course, this annual post wouldn't be complete without a discussion of the best and worst books I read this year.
Best Book I Read in 2008
Like last year, this was kind of a tough call since there weren't any books that just completely blew me away. There were several good books, though. The Curious Incident of the Dog in the Night-time by Mark Haddon was an intruiging look at the mind of an autistic boy and I appreciated how the author used the narrator's disability to bring a unique dramatic tension to what should be an emotionally charged story. And Cormac McCarthy's The Road is far from an uplifting story, but this tale of a man and his son trying to survive in a post-apocalyptic world is really powerful and really hard to put down. Both those books are runner-ups.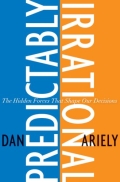 My favorite book from 2008, though, is Dan Ariely's Predictably Irrational. This nonfiction book about "behavioral economics" discussed the various kinks in the human psyche that compel us to behave in ways that are odd and downright indefensible in everyday situations. Why are you likely to pay more for something if you are shown a large number completely unrelated to the price? Why do people who read words like "elderly," "decrepit," or "senior" tend to walk more slowly when they get up and leave the room? Why does losing a dollar cause us more pain than gaining a dollar gives us pleasure? Why are we more likely to buy a product we're not even shopping for or don't even need if we're given a free sample? And, perhaps most importantly, how do people in the know –people like advertisers, politicians, and psychology graduate students– use these idiosyncrasies to subtly manipulate us?
What I like about Ariely's approach is that he keeps everything relevant and grounded in situations we encounter every day, but at the same time he didn't stray from the science of psychology. Along with every little vignette and story he includes concise explanations of the studies that support his point, including the methodologies and theories behind them. It's great science writing and incredibly interesting.
Worst Book I Read in 2008
Hoo, boy, this was a tough one, as there were a few really strong contenders for this title. I hated Neal Stephenson's Quicksilver because it was a meandering, overly verbose, plotless mess that was torture to get through. And I very nearly gave the award to Jim Collins's Good to Great because this business book that's supposedly about how to build a good company into a bastion of greatness proved to be little more than vaguely mumbled platatudes born of research methodologies so flawed they'd get you expelled from most community colleges.
In the end, however, I had to go with Michael Gates Gill's How Starbucks Saved My Life not on ly because of how badly it was written, but how blatant and ham-fisted it was in its sermonizing. The author's pedigree as an advertising man infringes on his ability to take what is a decent premise (i.e., an out of work executive is forced to take an hourly job at Starbucks to survive) and completely ruin it by not only making it sappy and saccharine, but slapping you with the story's moral with all the subtlety of a deodorant commercial. Really, just awful.
So, that's it for 2008. All in all a pretty good year. I'm going to continue on with some of the new authors I've discovered next year, particularly Terry Pratchett and David Sedaris. I'm going to keep writing the reviews on Fridays and I'll probably hit the 52 book mark again since my commute isn't getting any shorter and I'll hopefully spend at least an equal amount of time in the gym. But I don't think I'll formalize the challenge again in 2009. Instead, I have a different 52-in-52 goal in mind, which I'll be posting about soon.
But what about you guys? What were your best and worst books of the year?