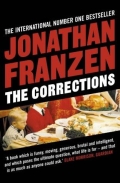 Note: This is #43 in my 52 Books in 52 Weeks Challenge for 2008.
In The Corrections, author Jonathan Franzen presents us with a meticulously painted picture of a midwestern family as they go through all kinds of strange difficulties in trying to live their lives and get together for one final Christmas. This before the family patriarch, Alfred Lambert is swept away by the one-two punch of Parkinson's disease and severe dementia. Besides Alfred, there's his wife Enid, whose long-standing fantasies about social climbing and the perfect family (in the perfect Christmas gathering) still drive her every wish as she tries to deal with her stubborn and ailing husband. And there's the kids: wayward Chip who threw away an academic career over an affair with an undergraduate, lesbian chic Denise whose unrestrained emotional and sexual needs are threatening to torpedo her own rising star as a celebrity chef, and elder brother Gary who seems to have the perfect job and the perfect family except that his wife and kids have aligned themselves into hateful coalitions against him and he suffers from acute clinical depression.
The Lambert family strikes me as definitely not well adjusted, but not messed up enough to land them a spot on Jerry Springer. In following Enid's quest to reunite her family for Christmas, Franzen shows us various flashbacks into the family members' pasts, focusing largely on one member at a time to give us a good look at how unhappy they are, how utterly they screwed up their own lives, and how much they hate each other. Things move back and forth along the time line of their lives as needed for Franzen to make whatever point or paint whatever picture he wants painted, and generally it's done with a admirable skill. Things flow quickly and it's easy to get caught up in the book and its characters. What Franzen seems to do really well is give you a sense of how the various family members relate to each other and how their desires drive their actions, even when they're being self-destructive. While it's a bit exaggerated, there's enough truth in it to make you periodically think "Ah, yeah. I know what he means."
And despite all this gloom, it's actually a pretty funny book in places. The chapters with Chip in particular were amusing, and I enjoyed following him through the annihilation of his hoity-toity academic job, to his failed (and manic) bid to become a screen writer in New York, to his eventual partnering with a Lithuanian crime boss in an attempt to create absurd web-based scams that fleece American investors.
The problem with The Corrections is that while Franzen's writing is rich, it's sprawling and often wanders all over the place. The book could have easily been a lot shorter than it was. The language occasionally seems self indulgent and overly florid as well, though that only distracted me a few times. Perhaps the biggest problem I have with it is the whole melancholy tone that pervades the whole work –these people are screwed up and seemingly incapable of making the corrections to their own lives that would allow them to be happy. They're also oblivious to each other and refuse to allow themselves to be supported. I know this is probably the whole POINT of the book, and that it's tantamount to saying you don't like ducks because they QUACK, but in the end it left me pretty unhappy.
Do you like these reviews? Check out my profile on Goodreads.com.