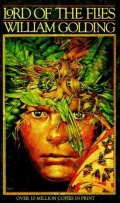 Note: This is Book 9 of my 52 Books in 52 Weeks challenge for 2008.
I suspect that Lord of the Flies by William Golding hardly needs much of an introduction to anyone reading this. It's the story of a group of young boys (some barely out of diapers, some into their teens) who are stranded on an otherwise uninhabited island following a plane wreck. The kids establish a society that reveals the tension between savage tribalism and civilized governance inherent in most of the societies put together by grown-ups, too. Things go from care-free dilly-dallying and monkey butlers (just one at first, but he trained others) to horrifying and deadly warfare in a surprisingly short period of time. Also, they kill a couple of pigs, one literal and one figurative.
Speaking of which, the allegory in this book is anything if not heavy handed in most places. Yes, you see boys' society mirrors our own. The conch shell represents law and order. The Beast represents the unknown, external, and mostly manufactured threats that bind men together. And at several points the "good guys" are trying to literally hold on to the flame of civilization while the savages try to put it out.
Don't get me wrong –I enjoyed the book and got a lot out of it. I'm just noting that it's a good choice for challenging younger readers, too, since a lot of Lord of the Flies features easy to follow, textbook examples of literary devices like symbolism, allusion, and foreshadowwing. Plus it's got a bunch of kids stabbing each other with spears and smashing each other's brains out, and what youngster doesn't go in for that kind of thing these days?
I also really liked Golding's prose in places. It's usually to the point, sharp, and elegant. But when he chose to, he could also linger over details and structure so that you really got a sense of place. I'm thinking of one passage in particular of nightfall on the island shortly after the boys arrive. It sets a mellow, peaceful tone very nicely and then later contrasts it with Ralph's frenzied flight through the same jungle as he runs for his life.
About my only complaint with the book was that outside of the few major characters like Ralph, Piggy, and Jack, the boys started to kind of blend together for me. Which one was Simon again? Roger? Sam? Eric? Apart from seeing how they were subject to a few key (and unfortunate) plot events, I kept losing track of these, but it's a minor complaint really.
Others doing the 52-in-52 challenge this week: