Ladies and gentlemen, I'd like to introduce you to Amanda Rene Madigan, "Mandy" to you and me:
Seven pounds, three ounces and she already needs a haircut.
Ger woke me up around 4:45 Saturday morning saying that it was either time or she was having the biggest Braxton Hicks contractions of her life. What's more, they had started out about 10 minutes apart and were getting closer. A phone call was made to Ger's parents who rushed over to watch over a still slumbering Sam, and we took off as soon as they got here. Personally, I can't really think of a better time for Mandy to make her call, despite her being a full week early. There's not exactly a lot of traffic at 5:30 on a Saturday morning, so we jammed to the hospital at about 80 miles an hour. We were flying. We had purpose. We were going full throttle.
Unfortunately when we arrived at the so-called women's evaluation office per the instructions on our laminated flyer, the place seemed completely empty except for what might have been a fairly well dressed homeless person snoozing in the corner. We started urgent tapping on the frosted glass window in the reception area and after a moment the window snapped open to reveal the glowering, moon-shaped face of what was apparently the least friendly person the hospital could cough up. "Be with you in a minute," she barked, then slammed the glass window closed.
We just kind of stood there, stunned. It was like Ger was a very pregnant Dorothy trying to get in to see the Wizard. I was, perhaps, the Tin Man. Or Toto. I'm not sure which. Ger found her tongue, though, and after a couple of minutes of none-too-subtle complaining someone finally came to admit us and give Ger a bed. Soon after that the words "five centimeters" were bandied about and we knew we were there to stay.
After that, things moved kind of quickly. For a time. Sort of. We went up stairs to the delivery unit and they hooked Ger up to various machinery, including a machine that routinely took her blood pressure, a machine that monitored the baby's heartbeat, a machine that dripped delicious fluid into her veins, and a machine that administered her epidural medicine. I got a laugh out of Ger by telling her that the robot would be in shortly to deliver her baby. This, in turn, got us giggling as we intoned "Push... Push... Push... You. Are. Doing. Great." in a monotone, robotic voice.
In the beginning, everyone we talked to seemed to think that Geralyn was a fantastic pusher and that in just a few more minutes this baby was going to literally FLY out of her uterus, sail across the room, and land neatly in its warming bed where it would shout "TA-DA!" Second babies, the staff said, were a snap. They all were shocked and aghast when we told them that Sam had taken six hours of continuous pushing, an act that they assured us would never be tolerated at this hospital and surely wouldn't happen again.
In fact, things did not ultimately go that well despite the quick start. Geralyn pushed heroically for two hours but because of her abnormally narrow pelvis, the baby's location didn't change much as a result. This is the same pelvis that Sam somehow managed to get through, but the doctor here didn't like the chances of something bad happening if, for example, the baby's head popped out but her shoulders got stuck. We talked it over, and though we really didn't like the idea and it asked a lot of us in terms of adjusting our expectations for the day, we decided that a cesarean section was going to be best.
I'm not going to lie to you: there were some tears. Ger is squeamish enough about needles, and scalpels seemed a LOT scarier once we thought about it. There was also the extra recovery time and the fact that she wouldn't be able to get out of bed for over 24 hours. We had really wanted a vaginal birth. (And here I will say "vaginal" again because it's totally not puerile in this context and I can get away with it for once. VAGINAL. Hee hee.) Since that wasn't in the cards, though, we resigned ourselves and quickly got prepped.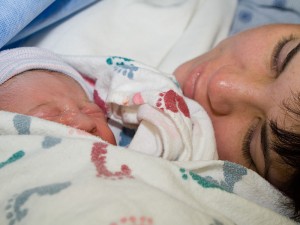 I got to wear paper slippers and a funny mask, Ger got to have her uterus cut open. I pointed out that this hardly seemed like a fair deal, but I was told we could not trade. Instead, I got to stand right there next to Geralyn with my camera held at the ready while they put a curtain across her midsection to block the view. I should have left it at that, but I have to tell you: I peeked. I couldn't help standing on my tip-toes and peeking over the curtain. Truth be told, though, I was more fascinated than horrified by what I saw, plus I can now say that I know what my wife's innards look like. Geralyn handled it like the champ I knew she was, though, and got through it just fine.
Mandy came out fine, too, and one bittersweet consequence of the c-section was that this time I was the one who got to hold the baby first, got to coddle her, and got to show her to everyone while they fixed Geralyn up a few feet away. It was every bit as powerful as the last time, and I was once again stuck dumb by love and wonder as I whispered my first words to my new daughter: "Hi! Welcome to the world! Sorry about the mess. We're ...we're hoping you can do something about that when you're older."
And that's where we are now. Geralyn and Mandy are both fine and recovering. The c-section means we're going to be spending a few extra days in the hospital, but we're looking forward to introducing Mandy to Samantha and the rest of Ger's side of the family later today and to my mom, sister, and brother-in-law later in the week.
Overall, I'm full of joy right now because hey --baby! But I'm also filled with trepidation for the same reason. I remember that it was a lot of hard work with Samantha, and that was only with her to deal with. I start to get anxious thinking about how much harder things will be this time around, but then I remember the dividends that Samantha has paid us for our sacrifices and I figure that there's got to be some kind of special multiplicative baby sibling math that means the payoff is going to be even better with both of them around. It's mathematically assured, people.
So bring it on, I say. This is so totally going to be worth it for everyone involved.
P.S., Thank you to everyone who left a comment or sent and e-mail in response to my post yesterday. They were all very much appreciated.