As I mentioned in the last pregnancy related update, the act of gestation has lost some of its intensity this time around given that we've been through it before. We're no longer desperately trying to cram baby-related information into our fevered minds and thanks to the survival of Sam's nursery furniture, clothes, and other sundry items we're not running around and screaming about all the stuff we have to buy. So it's been relatively mellow.
Until now. The other night Ger and I were sitting at the dinner table when the fact that the baby is due in less than a month kind of slammed home for both of us. I mean, as great as Geralyn looks, she still appears appropriately pregnant for someone nearing the end of a full term: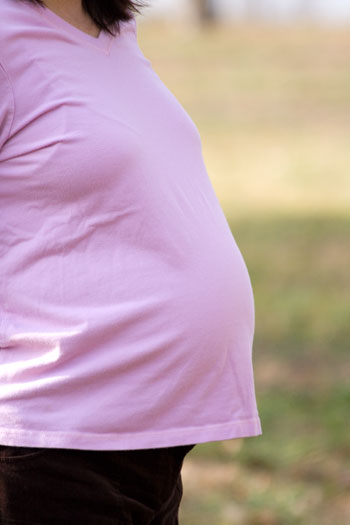 Newly panicked, we both started shouting things that needed to be done, mostly at the cat and at thin air. Then, this babel not leading to anything actually getting done, we grabbed a pad of paper and started making a to-do list. Only somehow it turned out to be a general to do list instead of relating specifically to the baby, so we got things like "Change air filters" and "Hang Christmas lights" listed before "Install car seat." So if I don't get to that latter item in time, the baby may have to ride home in the glove box but at least the air will be full of holiday cheer and free of allergens when Child Services comes to visit.
Also still on that list is "Name the baby." We actually have it narrowed down to two, neither of which appears in a crayon box. We started talking last night with the intention of arriving at a final decision, but I just couldn't commit. We played briefly with the idea that we would again try to make the baby's initials spell out her name or a variant thereof (like how Samantha Alyse Madigan has "SAM" as her initials), but we didn't like "Pam" or "Kim" and didn't think that our daughter would appreciate being named "Tom" or "Tim" or "Jim." No other three letter names ending in "M" came to mind, even after lying awake for hours thinking about it. I'm sure that you all will now instantly come up with a dozen each, causing me much forehead smacking.
So we probably won't even tell our family what the baby name is until after she's born. Gotta keep some surprises. The only thing I can say is that we're not going for one of those gauche manglings of an existing name that are so popular now. You know, the kind that aim for "creative" and land somewhere closer to "illiterate." Also, the child shall not be named "Mona" or, to my exasperation, "Samantha v2.0."
After initially being blase about the whole thing, Sam seems to be coming around to the impending reality of the baby. She'll occasionally, randomly, remind us that she's going to be a big sister, and that Mommy has a baby in her belly. We've also been trying to prep her for the event by talking about helping out and sharing, though she seems to still have a lopsided idea of the latter. She'll frequently take stuff out of the nursery, bringing it to me and saying "I can play with the baby's giraffe. I'm good at sharing!"
"Yes," I'll say. "You are! And are you going to let the baby play with your toys?"
At this she sometimes rolls her eyes, snorts "No" and throws the giraffe down the stairs.
But just sometimes, not every time. We're working on it.