My current employer has an awesome annual bonus program, and I did well this year. To celebrate, I decided to spend part of it on an overpriced toy, preferably something with blinking lights and the ability to annihilate any money that comes close to it. The gadget I decided on was the Apple iPod, an impressively expensive, hard drive based, portable music player. Take that Samantha's college fund! Here's a picture (for reference, it's about the same dimensions as a deck of cards):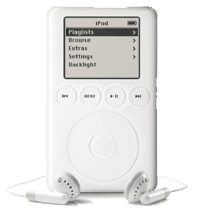 I considered going with one of the many competing high capacity mp3 players, since they tend to be either cheaper or offer more capacity for the same price. But God help me, I wasn't just shopping for just an mp3 player, I was shopping for a gadget. Something I could admire and subtly place in conspicuous places where other people could admire it and know how hip I had become. I wanted style in a little blinking box, and it didn't hurt that the iPod is the most highly rated "big enough to carry your whole Library of Congress" player out there. Basically, I figured that if I'm going to blow a few hundred dollars I might as well boot rationality out of the driver's seat and get the one I really want. So I last Sunday I headed for the Apple Store at the local mall.
In fact, shopping at the Apple Store was such an experience that I must comment on it first. Again, I could have bought the iPod online or slugged through a filthy place like Best Buy with the rest of humanity, but like millions of Japanese people, I secretly relished the chance to really shop at the Apple Store instead of look at things while feeling like I wasn't cool enough to be there. Coincidentally, the guys at Penny Arcade posted a comic a few days before that turned out to be pretty representative of my experience.
When I got there I crept into the gleaming Apple Store, smudging the frosted glass doors as I pushed them open. Inside I found pure style, packaged and neatly arranged on shelves and little kiosks that looked like they belonged in a museum of modern art --not a beige box in sight. The floors were hardwood, the lighting was recessed, and in the back of the store a hip youngster on a a massive monitor glibly informed shoppers about the wonders of using Apple products. The subtext was that if you didn't use Apple products, you had herpes. Everything in the store looked like it had been wiped down with those little wet napkins they give you when you order ribs at finer restaurants. I think it even smelled clean.
I spent a few minutes looking at iPods kiosk again, because going straight up to the counter and demanding one would look too needy. After a moment, I got the attention of a store employee. She was a young woman wearing kakhi pants and sporting a frisky haircut that leaned towards hipness, but didn't blunder so far into it that you wouldn't trust her with your hundreds of not-very-hard-earned dollars.
"Hi," I said. "I'd like one of the iPods."
Her mouth smiled. Maybe it was my imagination, but it seemed that her eyes didn't join in. Maybe I looked like I had just come from Target. "Sure," she said. "Which one?"
"The 15 gig one."
"Oh." Her eyes definitely weren't smiling. Apparently I'd be much trendier if I spent $200 more dollars on the larger capacity versions, but rationality was still managing to yammer at me even in its temporary role as a back seat driver. I was reasonably sure I didn't need to pay for enough hard drive space to store two copies of every song ever made.
She gestured towards a wall full of sanitary-looking products. "Let me show you the accessories." I didn't like where this was going, but I acquiessed. I didn't want to look too stingy or --heaven forbid-- unhip.
"The 15 gig model doesn't come with a docking station, belt clip, or USB cable," she said, pointing to each product as she said it. "But the 20 gig version does. So are you sure you don't want that one?"
I tallied up the additional costs in my head. They came to about $75, but something occured to me. "Do I need all those things?"
She blinked, and now her smile was fading a bit. "Well, no..." She seemed to think of something and brightened. "Unless... Do you have USB or Firewire on your computer?"
"Ah, USB."
"No Firewire connection?"
"Not a single one."
"Then," she said, beginning to scan the perfectly neat shelf space, "You'll need to buy either the USB cable or a Firewire card for your computer."
Actually, picking up a Firewire card was something I'd been wanting to do anyway. I needed it for transferring movies from my camcorder to my computer for editing. "Hmmm. How much do you sell the Firewire card for?"
"Those are sixty-five dollars," she said, reaching for one, presumably in preparation to thrust it into my face.
At this point, rationality leaned over the back of the driver's seat and grabbed the wheel. "What?" I snorted without thinking about it. "I can get one for cheaper than that at Best Buy."
By her reaction you'd think I had just said I liked to eat babies. With ketchup and a fork. At any rate, smile time was over. Apparently the folks at the Apple Store aren't used to customers putting limits on Apple's uncanny ability to get you to overpay for sexy products that do the same damn thing as cheaper ones you can get elsewhere. Overpaying for the iPod was one thing, but I wasn't going to overpay for a Firewire card or USB cable no matter what fruitylicious color it came in. That and the whole nickle-and-dime routine had really begun to annoy me. I'm paying $300 for a mp3 player and they have the apples to try and charge me $20 for a cable that the vast majority of PC owners are going to need? Forget that and your trendy haircut, lady.
The saleswoman may have sensed that rationality was fighting its way back to the forefront, because she stopped trying to foist overpriced accessories off on me and just rang me up (though I did indulge myself with a nice leather belt clip/holster). Despite my unwillingness to choke on the typical Apple force feeding, my sense of coolness finally snapped into place when she handed me the bag.
It was, without a doubt, the sexiest shopping bag I had ever held. It had the stylish Apple logo on it, plus clever drawstring ropes that turned it into kind of a disposable backpack. And it smelled like rubbing alcohol for some reason. Heck, that bag was almost worth $300 by itself. Drunk on the coolness of the bag and my new purchase, I strode out of the Apple Store and spent the next hour in Nordstrom's pretending to look at $45 tee-shirts, then sullied myself at Best Buy to pick up a $39 Firewire card.
Next time: My impressions of the iPod and iTunes once I got the damn thing out of the box used it.