I had a few experiments in my back pocket for this week, but when I asked Sam what kind of thing she wanted to try, she raised her fist in the air and said "Something with FIRE!"
Okay. I can do that.
Here's the setup:
oil
A glass bowl
a short candle
Something to prop the bowl up between (I used two rectangular dishes per the picture below)
food coloring
I poured a few inches of oil into the bowl, propped it up between the dishes, and put the lit candle underneath it. I then explained to Sam that when the oil at the bottom, nearest the flame, heated up, it would rise up to the top. Then, as it cooled, it would move back down. To help us see this, I used the dropper to put a few blobs of red food coloring in the oil.
At first I was kind of worried, because nothing seemed to be happening at all. I added a second candle, though, and before long the little red blobs began to "blorp" up to the surface in sputters, then scatter and slowly descend just as promised.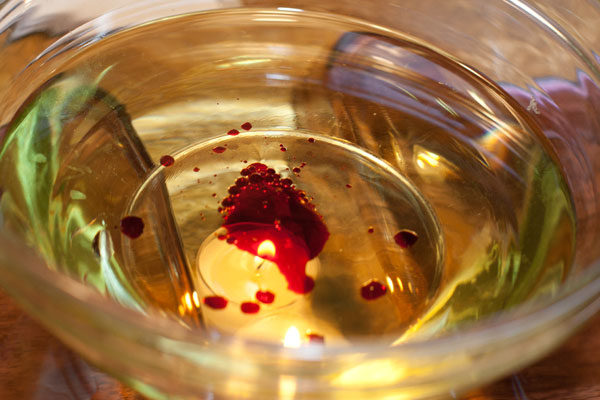 I explained to Sam that this kind of hot/cold circulation happens all over in nature, including in the air (which affects weather) and the ocean. Here's her journal entry:
Experument 9: circulating het …It blrpt up all the letl dots. Its lic ther's a invesable lin that the bobles go up. It blorpt. Hot oyl flots to the top.
As a bonus, Sam drew a little picture of the setup, which was nice.