April 15 weight: 170.5
Weight two weeks ago: 170.0
5 day avg weight: 171.4
5 day avg weight two weeks ago: 171.1
Workouts in last 7 days: 6? I think?
Well, I missed last week's update because I was out of town at a convention and forgot to throw my scale in my suitcase. So I really didn't have any good way to weigh myself and this week's graph involves some guesswork. This causes me much consternation, as I have been trained and conditioned to hate dirty data.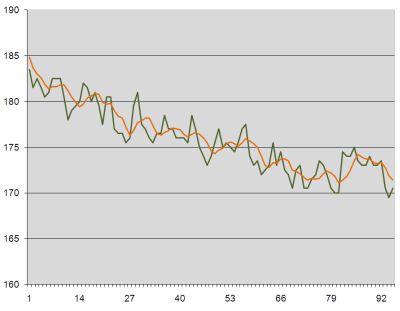 I'm hovering right around 170, which is annoying. Eating while traveling is always tough, as you don't often cook for yourself and it's hard to go to restaurants where they don't give you massive portions. On top of THAT, the convention where I was featured 2-3 catered coffee breaks per day where they would roll out these big trays full of cookies, energy bars, cakes, and the like. I didn't partake every time, but I abstain every time.
However, I'm not at all bummed for two reasons. First, this is an annual convention that I go to almost every year and see old friends and colleagues so I was about 35 pounds lighter than the last time most of these people had seen me. I got several comments and compliments on this, and I'm not going to lie to you –I enjoyed that.
The second reason I'm not bummed is that I ran in my first ever semi-official 5k race –the SIOP 5K "Fun Run." The downside was that the race took place at 6:30 on Saturday, the morning after a late night. Also, it was far too chilly for my tee shirt and shorts. And we spent more time bussing to the race location and waiting for them to set up the trail. But once we got started, I had fun running with a pack of other people. While I found the 5K run easy (I run 5K to 6K for routine workouts 3-4 times a week) I wasn't anywhere near the front of the pack. The winner had an average mile of 5 minute 11 seconds (!) but I came in #63 out of 107 with a total time of 27 minutes on the nose and an average mile of 8 minutes and 41 seconds. Here's a post-race picture:
I'm slowly getting more into running now, especially with the warmer weather. I still track my stuff at DailyMile.com, and I've sigend up for another 5K in June. I'd really like to find a local 10K to work up to, though. I think I could do that at this point.
Anyway, I've got some time before I have to travel again, so it's time to get back on target. 160s here I come.